WRITTEN IN ENGLISH
Jääportit Brings Us A Chilly New Album
Written in Metalsucks.net by Kayla at March 20th, 2018 at 1:04pm.
Finnish solo artist Jääportit has been bringing us meticulously crafted atmospheric music since 1997. His fifth full-length album, which is self-titled, may not be brutal or in your face, but it sure as hell will freeze your tits off.
When it comes to ambient music, I can take it or leave it. If it has the power to drag me in without being distracting, great; if not, I won't bother, and most of the time it falls into the latter category. This album is an exception – Jääportit is the prime example of what ambient music should sound like (in my very humble opinion). Yes, it's slow and it's repetitive, but if you listen closely there's a great deal of nuance that makes the record into the masterpiece that it is. The fusion of melancholy guitars with subtle electronic sounds will sweep you away to a frozen Nordic landscape. As a fan of electronica myself, I'm blown away by Jääportit's use of it; not once was I thrown off thinking, "Hmm, that sounds weird." The record has been perfectly and masterfully composed; every synth, every effect, every filter is included with intent.
Jääportit is the ultimate playlist for laying in a pile of snow and contemplating life. If dark ambient music is your thing, give it a listen below ASAP.
---
Band: Jääportit
Title: Jääportit
Review by Ian Morrissey at 15/05/18
Rating: 9/10
From the very beginning of Jääportit's latest release, you're reminded that this act continues to unfold, if you will. It was the album "Uumenissa" that first made me fall in love with the Finnish Ambient act but Jääportit's self-titled release is not at all similar to the afore-mentioned. Tuomas himself alludes to that differential stemming from polar opposite experiences in his life at that time, and listening to the music, you can hear that change.
What captivated me the most about "Uumenissa" was the beauty of the soundscapes. I think it was an extremely well done release but I also have some nostalgic memories of my own trip to Finland because that was the music I was listening to as my plane landed in Tampere at twilight whilst the sun was setting. Perhaps not a very rare occurrence for Finns but for an Englishman on his first trip to Finland, it was something special. The soft and beautiful melodies on "Uumenissa" have stuck with me for many years, and will for plenty more to come.
When it comes to Jääportit, I find that I enjoy the release just as much as "Uumenissa" but in a totally different way. I view "Uumenissa" as a release that it's very easy to relax to. I don't get that impression from this self-titled release. Instead, it's a rather powerful composition with much stronger Electronic influences. The added distorted guitars and drums give it a more boombastic feel without it being excessive. I'd still classify it as a form of Ambient, although I have to confess to not knowing the sub-genres of the genre well enough to expand further upon that. To me, Ambient music is one that evokes a unique atmosphere via synths, thus qualifying Jääportit's self-titled release in my little world.
Tuomas describes this music as being "darker" and "more crushing" than before. I'd agree with it being more crushing, and I concur that is darker than previous works but I would not say that this release is dark nor crushing for that matter. To me, that paints a rather dark image and I think that the self-titled release is evocative than that. Yes, you can feel a power in the composition but to me it aids focus and awareness more than anything else. I really don't view this masterful album as Dark Ambient or anything close to it. I find it too upbeat and almost uplifting at times to head down such a road.
If I could pick one word to summarise this album's atmosphere, it would be "contemplative". It feels like the music has been created with the intention of powerfully pushing on in life but remembering all that has passed before. Some things were remembered with anger and hate but overriding that is a sense of focus and intensity. I love the atmosphere that is conjured as a consequence of such, and irrespective of whether my interpretation of this music is accurate or not, I cannot help but enjoy what I hear on multiple levels.
Is this my favourite Jääportit album? In a word – no. I rate "Uumenissa" as one of my favourite Ambient albums of all time so such comparisons would not be very fair upon the self-titled release. It has to be noted that I do prefer the slower and more melodic approach first used. However, I really enjoyed listening to this experience, if you will, because it's not just an album. It's more than that. You're part of this music. It's very hard for musicians to make that happen and yet Jääportit has managed to do so. Therefore, to me, this is an album that every Ambient fan should own, and definitely one that every avid Jääportit fan should listen to regularly as Tuomas continues to take us on a wonderfully unique journey with him, and only he knows where the next stop is.
---
WRITTEN IN FINNISH
Jääportit: Jääportit
Epidemie Records
Arvostelija: Mika Roth / Desibeli.net, 29.03.2018.
Hämmästyin kun tajusin, että Jääportit oli viimeksi esillä Desibeli.netin sivuilla miltei yhdeksän vuotta sitten. Tuolloin arvioimani Voimasuo-albumi löytyy edelleen hyllystä, ja kiekko on edelleen satunnaisessa soitossa. Tuo hieno pitkäsoitto saa nyt viimein jatkoa, ja vaikka monet asiat ovat muuttuneet, on Jääportit yhä oma itsensä.
Aina vaikeasti rajattava post-rock ja samaa tarkkuusluokkaa edustava ambient ovat edelleen mitä selvimmät tienviitat Tuomas Mäkelän luomassa musiikissa. Lopputuloksia voi kutsua tietysti psykedeeliseksi rockiksi, mutta elektroninen äänimaisemointi ja pienet vinkkaukset niin shamanistisiin iättömyyksiin kuin industrialin teollisuushalleihinkin, pitävät rajat sopivan sumeina. Periaatteessa mitään suuntaa ei pelata pois, mutta toisaalta mihinkään aiemmin rakennettuun ei myöskään nojata tarpeettomasti.
Jääportit onkin tavallaan mitä suorin rock-albumi, joka vain esitetään poikkeuksellisin metodein ja soittimin, elektronisuuden haukatessa kakusta normaalia suuremman osan. Vokaaleja, tai oikeammin laulettuja sanoja, ei kuulla, eikä niitä myöskään kaivata. Tunnelmat ja tunteet välittyvät kyllä muutenkin, enkä voi kuin ihailla Mäkelän kykyä löytää kulloiseenkin tilanteeseen juuri sopivinta soundia, ratkaisua ja äänikuvaa.
Saatesanoissa tekijä itsekin osoittaa yllättyneensä ajan kulumisesta, joten toivotaan että jatkoa ei tarvitse vastaisuudessa odottaa ihan näin pitkään. Kyllä näin upean eteeriselle post-rock/ambient utuilulle on aina tilausta.
---
WRTITTEN IN GREEK
JÄÄPORTIT – Jääportit (Epidemie Records)
Written in Eclectic Shadows by Elena.
Είναι σχεδόν 20 χρόνια πίσω η στιγμή που ο Φιλανδός Tuomas M. Mäkelä έδωσε το πρώτο του μουσικό δείγμα.
Οι JÄÄPORTIT είναι one man project και είναι όλο δικό του και αυτό σημαίνει πως η ολότητα του άλμπουμ ανήκει (σχεδόν) ολοκληρωτικά σε αυτόν. Συνθέσεις, παίξιμο οργάνων, art cover, παραγωγή. Είμαι βέβαιη πως και σήμερα ακόμη παραμένει άγνωστος στο ευρύ κοινό. Θες το ύφος της μουσικής που συνθέτει; Θες το ότι αργεί χαρακτηριστικά να βγάλει άλμπουμ; Ότι και να είναι αυτό όμως, μάλλον στην ουσία ίσως και ο ίδιος να προτιμά να παραμένει και να κινείτε σε άγνωστες και υπόγειες κατευθύνσεις.
Η πρώτη μου επαφή με δισκογραφική δουλειά του JÄÄPORTIT λοιπόν έρχεται να γίνει το 2010. Και η αιτία; Ο καλός μου και "μακρινός" φίλος πλέον Piotr Grudziński. Όταν είχαν έρθει οι Πολωνοί Riverside στην Ελλάδα την πρώτη φορά και σε μια άκρως ενδιαφέρουσα συζήτηση που είχαμε μεταξύ άλλων, κάναμε κάποιες αναφορές σε μπάντες που μας αρέσουν και μοιραστήκαμε με τον Piotr "μουσικές γνώσεις". Εκεί λοιπόν μου ανέφερε το όνομα JÄÄPORTIT και με παρέπεμψε στο τότε πρόσφατο album του, Voimasuo που και είχε ήδη κυκλοφορήσει ένα χρόνο πριν.
Κατά τον Tuomas M. Mäkelä, η μουσική του είναι βασισμένη σε ερημωμένα σκοτεινά δάση και παγωμένα ονειρικά βασίλεια. Κάτι που πάντα έτσι ήταν αλλά έχει ξεχαστεί από πολλούς. Η μουσική που βγάζει ενσωματώνεται στα μουσικά είδη, χωρίς συγκεκριμένη ταμπέλα όμως.
Ισορροπεί κάπου ανάμεσα σε παγωμένο ambient, darkwave, experimental electronica και post-rock χρησιμοποιώντας συνθετικούς αλλά και φυσικούς ήχους για να δημιουργήσει κρύες, μελαγχολικές ατμόσφαιρες. Το καταφέρνει πολύ καλά. Είναι πολύ όμορφα δεμένο το άλμπουμ ακόμα κι αν υπάρχουν στιγμές που οι μελωδίες του είναι υπνωτισμένα μονότονες. Τα πλήκτρα και σε αυτό το album του είναι η πλειονότητα μόνο που οι κιθάρες κόβουν το νήμα στο τέλος.
Έντεκα συνθέσεις χωρίς εκπλήξεις αλλά με πολύ καλά προμελετημένη ατμόσφαιρα, γραμμένοι τίτλοι στα Φιλανδικά αλλά στη σελίδα του στο bandcamp μπορείς να δεις και τους αντίστοιχους στα Αγγλικά.
Άλλο ένα ενδιαφέρον κομμάτι που προέρχεται από τους πάγους της Βόρειας Φιλανδίας και που ξέρετε τι να περιμένετε.
---
WRTITTEN IN HUNGARIAN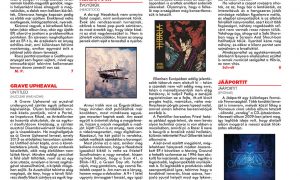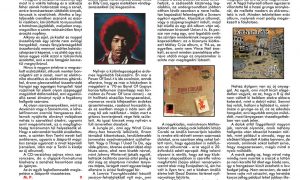 Translated by Samu Igor László: "It says you are unique, an your returning is this years happy surprise. 9 out of 10 points written by and 30 years ago reviewer black metál heroic music fan.
Sokkoló extra is a section for not really metál orianted, experimental music őr Live albums, EPs. I remember here I found your first album."
---
WRTITTEN IN CZECH
Jääportit – Jääportit
Written in Echoes Zine, 13.3.2018.
VERDIKT: Jääportit se nechali zmrazit, aby se po devíti letech vrátili s civilnějším projevem smířeného dospěláka, který sleduje současnou scénu a přitom je dál fascinován ledovou krásou domovské krajiny. S nostalgickou slzou v oku a razancí bigbíťáka.
To množné číslo v úvodu verdiktu je samozřejmě zavádějící. Když se řekne Jääportit, je to téměř výhradně Tuomas Mäkelä, i když například na předchozích albech Voimasuo a Avarrus se blahé paměti objevil i ženský prvek v podobě přítelkyně MIndy. Slušelo jí to… Je to však na 99% Tuomas, kdo má již od roku 1997 tak silný vztah k severní části Finska, že se vliv tamější přírody snaží vtisknout do své hudby. Do hudby původně ryze ambientní, poměrně primitivním způsobem kombinující přírodní prvky s až fantasy výpravnou klávesovou produkcí (Kauan Koskematon). Právě tam jsme se setkali poprvé. Jak šel čas, projev Jääportit se směle vyvíjel, absoroboval vlivy (post) rockové muziky, elektronika se z prvních krůčku dítěte měnila v post pubertálního drzého floutka a dosud poslední album Voimasuo bych se (právě pro svou neotřelost) nebál zasypat superlativy. Ta kombinace arkticky tajemné elektroniky s bigbítovou výzvou udělat Jääportit přímější a přitom prostorovější kapelou, působila atypicky a originálně.
Už jsem si myslel, že před lety vyřezaná díra v ledu nadobro zamrzla a duch Jääportit definitivně zmizel pod hladinou. Tuomas má svou práci ve studiu a má jí tolik, že kdysi připravovaný rozhovor nešlo při nejlepší vůli dotáhnout do finále. Ale nelze mu to mít za zlé. Už jen proto, že ledy se nakonec pohnuly. Během loňské zimy byla vypuštěna první vlaštovka formou skladby Poies, kterou doprovázel komentář, že Jääportit stále dýchají, jsou otevřeni dalším výzvám a nebrání se prakticky ničemu. Prostě tomu všemu ještě dopřejme čas a nechme to v klidu uležet. A ten čas nastal během letošního února. Tedy čas vydání pod křídly domácího labelu Epidemie Records. Samotné práce na novém materiálu můžeme datovat o rok zpátky, neboť i Poies je na novém albu zastoupena.
Právě tahle skladba reprezentovala směr kudy se Jääportit rozhodli ubírat. Dál a s větším zanícením implementovat rockové postupy a přitom nerezignovat na ty elektronické. Držet si svůj speciální projev a dál jej prolínat novými výzvami. Pro mě osobně je Poies něco jako polití živou vodou, skvělá energická skladba a ukázka, že v Jääportit dál dříme velký potenciál. Ten měla potvrdit novinka a svým způsobem jej také potvrzuje. Jaká tedy je?
Nedá se říci, že by úplně vyprchala magie a kouzelné krystalky ledového snění, ale přibylo civilního přístupu a nadhledu. Takové, ačkoliv to může znít až neuctivě, obyčejnosti. Jako by hudba Jääportit slétla z výšin a s nohama pevně na zemi se dál hlásila k fascinaci sněhobílým královstvím přírody kousek za domem. Vše je daleko čitelnější, přímější a bohužel ubylo na oné atypičnosti. Právě z ní Jääportit po osmi, devíti letech něco ztratili… I když něco nového zase vzali za své a snaží se pokračovat na cestě, aniž by rezignovali na dávnou podstatu sebe sama. Jejich vývoj je nadále velmi plastický a tvůrčí proces, který se nebojí silnějších zásahů do prověřeného soundu. Novinku bychom ze všeho nejvíce mohli považovat za post rockovou desku, kde už kytara dávno vyrovnala (a v mnoha případech i překonala) typicky syntetickou tvář Jääportit. I když typickou…
Jääportit současnosti, to je především další razantní krok za hudební svobodou, bez ohledu na minulost. Ta zůstává jen pocitově. Staří Jääportit žijí v rámci nového alba jen v ozvěnách a připomínají se spíš náladou, než hudebními postupy. Čas pokročil, proč se pořád někam otáčet? To není zrovna Tuomasova nejoblíbenější činnost. Neustále svou hudbu posouvá, proměňuje a přemýšlí o ní, což je v případě podobně laděné muziky záslužný čin a ostrá stopka stagnaci.
Novinka je především melancholicky (post) rocková deska, která je dnes daleko blíž klasickým postupům tohoto žánru a tím probouzí pocit, že už nezbylo tolik místa pro dřívější jedinečnost. Neznamená to ztrátu vlastní identity, ta je nadále přítomna, jen už nepůsobí tak silně. Eponymní album mluví mnohem srozumitelněji a je blíž vlně, ke které se dříve jen náznaky přibližovalo. Možná je to škoda, možná vůbec ne, ale já dnes Jääportit vnímám jako kapelu, která se (chtě nechtě) dostala na úroveň dalších post rockových spolků.
Poies je pak skladbou, která mi přijde v rámci novinky jako nejlepší, řekněme nejodvážnější. Deska nabízí i další silné momenty, ale už tam není ta nadstavba, něco, co by mě vážně uhranulo. Jääportit se sice nestali jedněmi z davu, ale ten dav je už na obzoru a v krajině sněhu a ledu je najednou větší pohyb než kdysi. Nevadí mi to, ale cítím, že ta pravá magie a to, co jsem měl na kapele nejradši, se stáhlo víc do pozadí. Proto v mém soukromém hodnocení zůstane novinka až za Voimasuo.