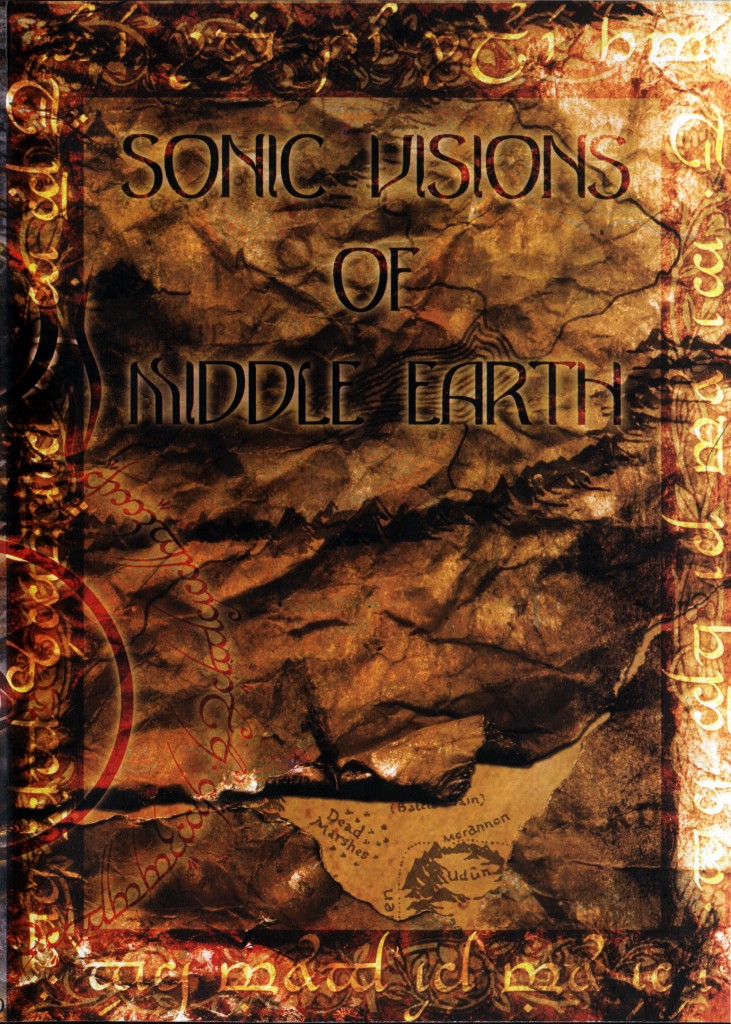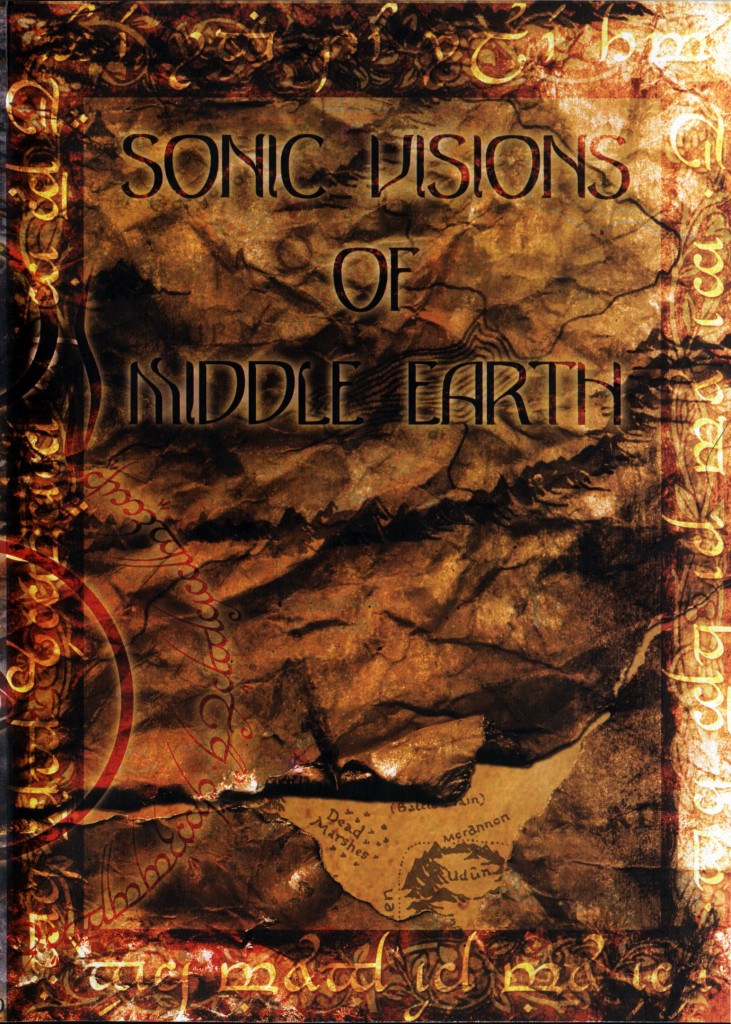 Various Artists – Sonic Visions Of Middle Earth
Jääportit – "Sydänyön samooja syvällä unten mailla ja metsien soilla"
The famous Finnish musician, here reviewed also with other works of his, proposes the most lenghty song of the compilation, with its almost 16 minutes. The stile he has chosen here is surprising, especially for those who already knows Jääportit's music. In fact, while the other artists featured here preferred dismal and subterranean sounds, Tuomas Mäkelä (Jääportit's mastermind) has created a song very melodic and often peaceful, with this features even more evident of what can be heard in albums such as "Kauan Koskematon" and "Uumenissa". The development of the song is articulate and various. Jääportit said that this composition is made up of four parts, but I tend to see it as a whole. The melodies which open the song are extremely beautiful, among the best ones ever composed by this Finnish artist. We find ourselves into an enchanted wood, with delightful and sublime sensations. When an acoustic guitar starts to play, the atmosphere becomes more rarefied, and then we pass to another melodic section, reminescent of Mortiis, but with an epic and tribal taste which sound very original. We walk through different lands, each one with a story to tell. The surprises of this song are many and always pleasant. The following part is a dark and misterious one, we find ourselves into a spiral where time stands still, between ancient memories and future omens. We are taken inside an emotional vortex that evokes, with few sounds, very peculiar remembrances and feelings. The flavuor of this part of the song is futuristic. Through a passage similar to the ideas of "Uumenissa", we arrive at the final section of this great song, where the opener melody is revised by a piano with a psychedelic feeling. The vortex, the spiral about which we were talking before takes us into a world similar to the one evoked at the beginning of the song, but which follows different laws and logics: a transfigured reality. Together with the excellent Gyldja's song, this is the best track of the compilation.
-Valerio / Crypta Nivis Webzine, 9th of January, 2006.
---
Various Artists – Sonic Visions Of Middle Earth
Foreshadow Productions has culled together a handful of the dark ambient genres best artists and set them about the task of creating music inspired by themes taken from the mythical world of Middle Earth. The result of these efforts is the album sonic visions of Middle Earth.
Artist: Various Artists
Title: Sonic visions of Middle Earth
Label: Foreshadow Productions
Genre: Ambient / Dark ambient / Ritual Ambient
Since the release of J. R. Tolkien's Lord of the Rings Trilogy music inspired by the Lord of the Rings and J.R. Tolkien's mythical worlds and characters have been appearing sporadically on the post industrial and neoflk music scene. With such rich fantasy and mythical material from which to draw from it is no wonder that so many talented musicians have chosen Tolkien's work as a source of inspiration. Joining this flush of Tolkien inspired music comes sonic visions of Middle Earth. sonic visions of Middle Earth is a new dark ambient compilation created by Foreshadow Productions. Foreshadow Productions has culled together a handful of the dark ambient genres best artists and set them about the task of creating music inspired by themes taken from the mythical world of Middle Earth. The result of these efforts is the album sonic visions of Middle Earth.
Answering this call to create Middle Earth inspired music are Leviathan, Aidan Baker, Jääportit, As all Die, Gydja, and Transcendent Device. These six talented dark ambient artists join forces in delivering an album of dark sonic sorcery that transports the listener to some of the most mythical foreboding terrains and characters to be found in Middle Earth. From the darkened and dreary halls of the Mines of Moria to the burning fires of the sinister Mount Doom little is left unexplored by these five artists.
Sonic visions of Middle Earth begins with a very dark offering from Leviathan titled "Fogs on the Barrow Downs". "Fogs on the Barrow Downs" begins with mystic drones that crawl out of the speakers like restless spirits. The thick monotone drones pour forth as if they themselves where fog rolling across the open land. Lighter tones gently interlace with the deeper sonorities giving the music the sensation of expansion and movement. Half way through the song a male whispering voice recites spoken word lyrics to the music. Deciphering the message hidden within the lyrics is a challenge as the voice is deeply imbedded in the music. Whatever the invocation may be it has an enormous effect on the music which becomes agitated with activity as it is joined by a slow and deliberated deep rumbling rhythm that pounds out a dismal beat. The music swirls like thick grey fog as the reverberating drums herald the arrival of something that remains unseen and unwelcome. A sense of fear and imminent confrontation builds as the relentless rhythm pierces the dense music with sinister intentions leading its advance. After a lengthy twelve minutes the listener is left shivering and alone in the cold Barrow Downs.
Jääportit offer the third track titled "Sydänyön samooja syvällä unten mailla ja metsien soilla." Jääportit's offering is notably lighter and more inspiring that then its two predecessors which delved into darker domains. Jääportit offers a unique journey through what feels like an elven forest. Utilizing environmental sounds of birds, acoustic guitar, and electronically generated ambience Jääportit creates an environment that is shimmering with light and life. The acoustic guitar is the most direct instrument in the song and it is the guitar music which leads the listener forward through a tranquil yet lively world of wavering inspirational electronics and bird calls. The sensation is one of floating effortlessly through an ancient old growth forest which has been blessed and preserved by the magic of the elves. Half way through the song the guitar retreats and drums and plucked strings take the forefront injecting the song with a sense of persistence and action lacking in the earlier half. Instead of floating the sensation become one of running under dense canopies of leaves free of concern and filled with wild passions. With the addition of snare drums the listener is engulfed in a scenario of armed elves running forth across their homeland forest with bows and arrows at the ready to meet any dark threat which my appear. Otherworldly and very engaging with its many moods and twists and turns "Sydanyon samooja syvalla unten mailla ja metsien soilla" Is definitely one of my favorite tracks on the album. Jääportit is also over ten minutes in length which gives the listeners imagination ample time to feel the narrative and become immersed in the fantasy.
Gydja offers the fifth song on sonic visions of Middle Earth and they choose to delve back into nightmare ridden territory with the song "Torech Ungol." "Torech Ungol" is the name given by the elves of Middle Earth to the spider web ridden labyrinth of caves that border the western edge of Mordor. Many may remember these caves and their patron spider Shelob who attacks the stories hero Frodo Baggins. Gydja chose a very creepy terrain to sonically induce and these masters of dark ambient have succeeded in their mission. "Torech Ungol" is a long and deliberate journey through subterranean sounds of dark ambient and dark electronics that are enhanced by unknown samplings that add environmental sounds that enhance the journey through this spider's lair. Thick ambient drones are complimented with piercing electronic sounds and other aural oddities that are expertly manipulated to give the impression of insect chatter and spiders feeding on once living creatures and casting their webs in the dark. Some of the environmental sounds are so realistic it sounds as if you are pushing and cutting your own way through dense layers of web. On every side are the sounds of nesting spiders and chattering mandibles. If you have a suffocating fear of insects and spiders and small dark confined spaces then "Torech Ungol" is a guaranteed nightmare.
Dark ambient can often be a mixed genre that attracts artists without a true sense of vision or any musical talent. Foreshadow Productions has bravely penetrated this genre with success and has delivered a stunning musical compilations based upon solid narrative foundations. Using the inspiration of Middle Earth and its numerous beings and domains the five artists featured on sonic visions of Middle Earth have cultivated an incredibly cinematic soundtrack that offers a little of everything and not too much of any one thing. While listening to this soundtrack with headphones on I was absolutely absorbed and transported away from reality just as the artists intended. Indeed after finishing listening to the album I assure you that you will be literally astonished at the magnitude and efficacy of this album. I have no hesitation saying this is one of the very best dark ambient compilations I have ever heard. If you like to explore sonic worlds of fantasy tinged with the unknown and a little fear then saddle up and take a journey into the recesses of sonic visions of Middle Earth.
Contributed by: Malahki Thorn, Heathen Harvest, Thursday, May 26 2005 @ 01:00 AM PST
---
Various Artists – Sonic Visions Of Middle Earth
CDR: Foreshadow Productions FSH020 [2005]
Proclaiming "music projects led by people who appreciate, admire and simply love J.R.R. Tolkien's writings" in the accompanying promo sheet one cannot help but immediately be struck that this is more a tribute album for the recent movie trilogy than a purely literary appreciation; the accompanying artwork of the cincture of one ring Elvish script about the disc face doesn't help the intended cause but may well aid record sales.
Each artist wields a hefty chunk of the disc that gags full to the brim of dark ambience that attempts to ensorcell the listener with their individual interpretation of the most mainstream of prose fantasists of the twentieth century.
Leviathan conjures the eddies of the barrow-downs where haunt the barrow wraiths amidst sunken and forgotten cairns obscured in contrails of echoic mists, dimly heard voices and ancient clangour steep the obfuscation. Aidan Baker's 'The Mines of Morai' posits a concatenation of pendant synth and pads that are less dark than they are eerie, distant granitic tolling reverberates the swale blemished with possibly unintended voluminal distortion. Antiphonal folk cadence breaks the droning reverie as Jääportit's offering brings together electronic organ, flute and acoustic guitar amidst a background of picturesque birdlife broken by militaristic percussion buoyed on bizarre instrumentation and melody before returning to neoclassical folk exploration. Persisting with a more pastoral and illuminated approach, As All Die's 'Treebeard of Fangorn' sways reverent piano and sweeping pad that rustle amidst dense foliage interspersed with plaintive horn. Gydja delivers powerful presence with 'Torech Ungol', limestone formations accrete earthen tears and subterranean winds swell tumid while the susurration of lambency dances across the stone welkin. The finale of the lengthy journey is a rumbling carcass of droning ambience by Transcendent Device, yet 'Fires of Mount Doom' proves more somnambulant than menacing.
– NYR, Aural Pressure
---
Various Artists – Sonic Visions Of Middle Earth
I forgot about the title to this compilation completely. I allowed myself the time, a blanketing silence and began my journey into this release. Leviathan opens up a dynamic scape of unrestricted and oppressing drone. Gentle layers of echoing unearthly keyboards arriving just in time to gracefully balancing out with the low dawdling ululations. There wasn't a lot of structure to Leviathan's "Fog on the Barrow-Downs." But sometimes I like my Soundscape to be simple and inviting. Aidan Baker is next, embarking on a different approach with using sheer, quietness and permitting the drone to take most of the control. Positioning a ominous drifting wave of thick murky keyboards, with fleeting mechanical melodies gracefully waltzes through "Mines of Moria." Upon the horizon as the sun starts to break through the dark clouds, Jääportit courts the mind into a land of pleasing sights and mountainous landscapes. Employing gladsome beats, flutes, guitar and targeting textures of nature orientated sound effects such as birds to unwind the thoughts. After floating aimlessly in a solacing cradle a piano and passionate guitar reclaims the marvels of "Sydanyon Samooja Syvalla Unten Mailla Ja Metsien Soilla." A bliss filled sigh rushes in as As All Die takes a page out of Goblin's book. By utilizing synthesizers, horns and a less is more approach As All Die hints of that "Treebeard of Fangorn" is a forest of imaginary life watching your travel through its immense trees and moss covered ground. As the jaunt professes the end, remnants of the sun begins to dissipate through the heavy branches and guides to a clearing. Next is Gydia's "Torech Ungol." Coursing in on a cavern's chilling wind, the reverberating drone dances wickedly along side a multitude of fixated effects as such ghoul like maundering, angelic choir laden back drop, and a luster of dense soundscape. If you took Robert Rich's "Bestiary" and mix it with Rapoon's "The Fire In The Borderlands" you would have "Torech Ungol."With high and low pitched textures this was one of the busiest tracks on this compilation. As all must come to a close Transcendent Device does the honors. Painting a desolate landscape of illuminating fires: vile rolling clouds of gray and black ash smoldering. A demonic unspeakable mountain menacing in the horizon. "Fires of Mount Doom" surely adds an inescapable set experience to the marveling soundscapes and thick potent drone. With the theme pertaining to J. R. R. Tolkien's literature, "Sonic Visions of Middle Earth" can also provide one's imagination with other possibilities as well. It comes in a DVD casing and six beautiful inlay cards to add to the vision of what Foreshadow Productions was trying to convey.
– K, Worm Gear Zine
---
Various Artists – Sonic Visions Of Middle Earth
Foreshadow Productions, 2004
It's quite hard to make a review of a pure ambient album if there's not a particular interest on this music, so it's very easy to fall into tendencies of oblivion and depict this album as a collection of background noises that resound through the speakers and tell nothing to the listener. Anyway, this style is able to provide a lot of peculiar sensations to the listener and it's quite extreme in a certain way. Yours truly is going to try to do his best and analyse each song separately, despite bestowing a rating for the album as a whole. "Sonic Visions of Middle Earth" includes six tracks in 76 minutes of music. Yes, they are very long tracks… Maybe because each artist was eager to tell as many things as possible through his/her song. This could end in a lengthy fruit for the taste of our ears if the song was boring -something that has effectively happened in some cases. As the album title suggest, each band has tried to describe their own visions of Tolkien's world with different results, in my humble opinion. Let's see…
Leviathan's track is about landscapes in their extreme side. Not much variety can be contemplated in their music, but the steady slow crescendo in this song and the later fall into meditative sounds is effective. Too bad the sound is not clean enough, though. Ambient music is a style demanding a great clarity of sound, but that's something we miss in some songs of the compilation, too.
The second track here is Aidan Baker's contribution, and it's similar in performing to Leviathan's. A bit fuzzy, monotone sound as well, but less interesting ideas.
Then comes the mighty Jääportit from Suomi to break barriers with their unique sound. The combination of medieval tunes and ambient in this song is fantastic. One could expect nothing less than that, since this is a great ambient act with a wise songmaking and use of resources. The title of the song is hard to decipher if you're not Finnish -just like the music, varied in its strong structure. Galactic landscapes like an astral sleep taking off Fangorn… Jääportit beat every challenger in the dark wave ambient scene and demonstrates again it's a band away from the rest. The best song in this album, as you may think.
As All Die is another act in the vein of classic ambient monsters as Mortiis and Burzum's synth tracks. Simple notes, not many different layers of music, and subsequent repetitions of two or three patterns of notes, easily structured. It's not bad but it has been already done many times in the past.
Gydja's "Torech Ungol" is an excellent recording, showing the abilities needed to perform good ambient music, and without a doubt the highlight of this album after Jääportit. This New Zealand based act -a quite exotic location, really- is also in the good path and possess a consistent mixture of feeling and vision to make good music. The 15 minutes this song last are worthwhile, due to the clever use of layers juxtaposing each other and the dreamy atmosphere achieved, consisting of long resounding echoes instead of repeating short notes as other uninteresting bands do. The good sound helps a lot in this course.
And last, the closing song "Fires Of Mount Doom" is a very boring track consisting of a monotone background fuzz. The sound isn't anything clean, so the sensation of dullness is accentuated.
A good approach and insight to the nowadays occult ambient scene: underground, extreme, her(m)etical music.
7/10 points
Reviewed by Fjordi / Tartarean Desire Webzine
---
VARIOUS ARTISTS – SONIC VISIONS OF MIDDLE-EARTH
(76:55)
FORESHADOW PRODUCTIONS
That the magical writer J.R.R. Tolkien is an incredible source of inspiration for many, many metal bands is nothing new. Bands like Blind Guardian, The Ring, Burzum, Gorgoroth, Cirith Gorgor, Battlelore and Land Of Mordor for instance took their advantage of this lively written triptych. But what maybe is a little less known is that there are also a nice amount of band from the dark ambient and neo-classical vein who admire the king of fantasy. This release can be seen as a tribute from these musical regions to Tolkien…
It is in no way reasonable to doubt about what musical genre we talk here, if we keep in mind that this are just six songs in nearly eighty minutes. These six tracks are produced by acts like Jääportit and As All Die for instance. Some are really droning and minimalistic like the first one by Leviathan for instance (which Leviathan is this by the way!?) others like the aforementioned Jääportit is pretty lively and slightly symphonic and tickles the imagination the best – though I have no clue about what passage from Lord Of The Rings this one is, Swedish is still not my best point. Nice to hear some acts that I never even heard of before and to hear some acts that I just heard the name of, so besides being a nice tribute to Tolkien this is also a pretty good compilation for those interested in the dark ambient or dark and eerie soundscapes. It is needless to say that Jääportit is the best act on this CD but the others are mostly ok as well.
Since I have just a promo version of this release I can't really tell you what the actual product looks like the bio-sheet tells me that it is presented in a DVD-case and comes with six inlay cards with special artwork (which can be viewed on the Foreshadow Productions website) and liner-notes from the artists themselves…
Reviewed by Felix / Vampire Magazine on April 11, 2005.
---
V/A – Sonic Visions Of Middle Earth
I've never been a big J.R.R. Tolkien fan. I've attempted to read some of his stuff, but i didn't like the style of writing and couldn't get into it. The most I've experienced of his work I guess would be the Lord Of The Rings films which I didn't much like either (Peter Jackson should still be making splatter films, not that trite hollywood shit, goddamnit!), So I'm pretty clueless to the references on this Tolkien themed ambient compilation. But I don't need that info to write this review, so lets stop talking about the old dead author and let's get on with the review.
With 6 tracks spread over 70+ minutes, I think it's pretty obvious to state that all the songs on "Sonic Visions Of Middle Earth" are rather long. The genre and tone of the audio here is all ambient in nature, some happy and some darker, a lot of it of the droning variety. I can get into some of it, but the majority of the material stays in the same place for way too long to get my tongue wagging. I enjoy a lot of the choir pads and sweeps that are used throughout this compilation, but I would really like to hear some different sounds in occasionally, especially if it's a 8 or 16 minute long track. There are some exceptions to the boring status quo of this cd, mainly the Gydja track "Torech Ungol", which sounds really nice and manages to keep up a lot of momentum, and the Jääportit track that , while not as cool as the previously mentioned track, still moves around a lot and sounds good. But as stated before, most of this stuff gets pretty old after the first few minutes.
Aside from the tedious nature of most of the songs, one of the other things that irks me a bit about this is the mastering. it seems that this was taken to an actual studio for mastering , but there are a lot of sound jumps on this disc, points when the volume gets way too loud, and it can be pretty irritating. Also at times there is a lot of static amongst the pads, not that static is a horrible thing, but it doesn't seem to be intended.
I feel like a bit of an asshole, but I just can't get into the majority of the tracks here. If you like droning ambient music that stays in the same place for 10 minutes, then you'll love this compilation. But I personally just can't get into it.
Reviewed by Royce Icon, industrial.org on 2005-04-15.