Sonic Visions of Middle-Earth -compilation album was released by Foreshadow Productions as pro-duplicated CD-R in DVD case with special inlay cards (FSH020) at January 2005. Album was limited edition of 100 copies and was sold out.
Six critically acclaimed experimental music projects led by people who appreciate, admire and simply love J.R.R. Tolkien's writings. This conceptual compilation comprises of various themes from master's greatest opus 'The Lord of the Rings', which are interpreted and presented in sonic form. This is a disc full of beautiful and eerie soundscapes. Middle-earth in the way it has never been seen.."

Note by Foreshadow Productions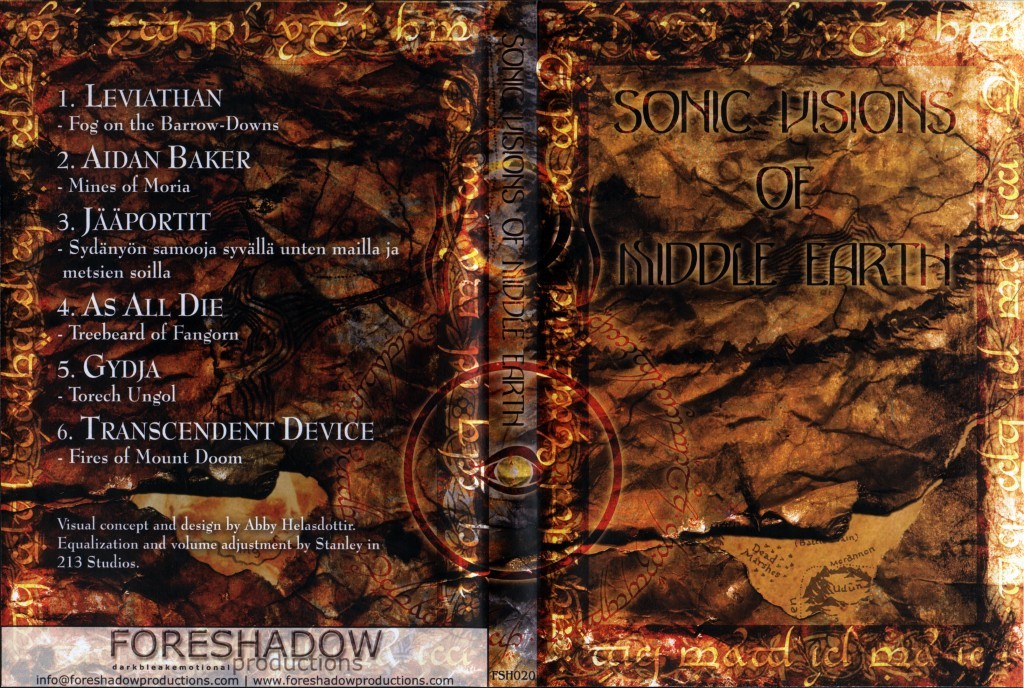 Music and sounds for Jääportit track on this compilation was created, mixed and produced by Tuomas M. Mäkelä in Tajuntani Studio at 2004. This special piece of music lasts a bit over 15 minutes and includes acoustic guitars played by Masa Yardse a.k.a. J-M Kenttälä (from the Finnish band Ruotomieli).
Jääportit song title in English goes like "Midnight Wanderer in the Deep Realm of Sleep and Swamps of Forests" and the four parts of the song was named as
1) 'Ascension woods'
2) 'Flyfight'
3) 'Dreamharmonium'
4) 'Subsidence sedimentation'
Tracklist
| | | | |
| --- | --- | --- | --- |
| # | Artist | Track Title | Length |
| 01. | Leviathan | Fog on the Barrow-Downs | 12:01 |
| 02. | Aidan Baker | Mines of Moria | 12:02 |
| 03. | Jääportit | Sydänyön samooja syvällä unten mailla ja metsien soilla | 15:36 |
| 04. | As All Die | Treebeard of Fangorn | 11:37 |
| 05. | Gydja | Torech Ungol | 14:37 |
| 06. | Transcendent Device | Fires of Mount Doom | 11:03 |
Listen and download Jääportit-track
Reviews and comments
Jääportit offers a unique journey through what feels like an elven forest. Utilizing environmental sounds of birds, acoustic guitar, and electronically generated ambience Jaaportit creates an environment that is shimmering with light and life.

-Malahki Thorn, Heathen Harvest
Antiphonal folk cadence breaks the droning reverie as Jääportit's offering brings together electronic organ, flute and acoustic guitar amidst a background of picturesque birdlife broken by militaristic percussion buoyed on bizarre instrumentation and melody before returning to neoclassical folk exploration.

-NYR, Aural Pressure
The combination of medieval tunes and ambient in this song is fantastic. One could expect nothing less than that, since this is a great ambient act with a wise songmaking and use of resources.

-Fjordi, Tartarean Desire