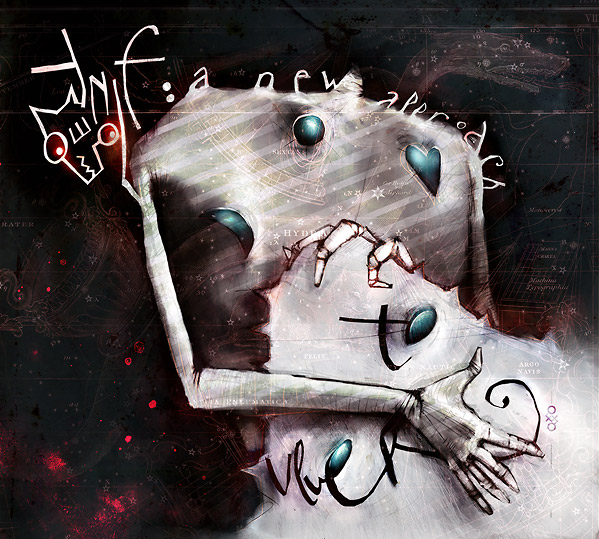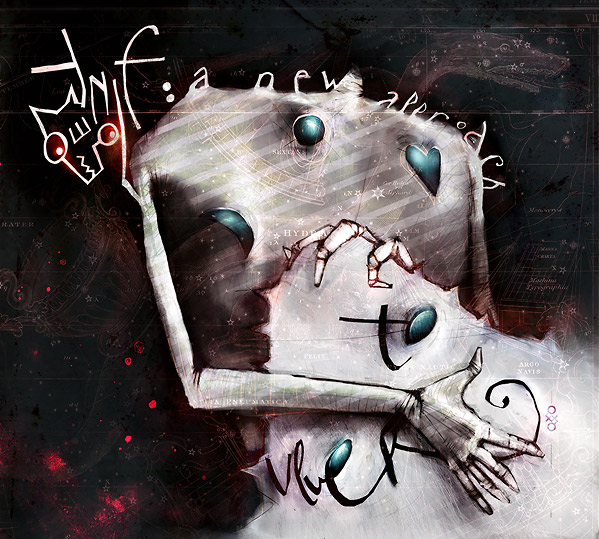 Reviews In English
My Own Wolf: A New Approach to Ulver
Speaking of Ulver, Aspherical Asphyxia Productions (say that two times fast), a Russian imprint, has released a two-disc tribute to Ulver – free for download. (The physical version is due out May 15, 2008.) I am normally not big on tribute records. But this one interests me, since the objet d'affection is Ulver, whose material seems especially malleable (see the remix compilation 1993-2003: 1st Decade in the Machines).
This project is huge: 26 tracks totaling over two and a half hours, with artists from Russia, Finland, France, Ukraine, Australia, Israel, Germany, Latvia, US, Canada, Italy, Norway, Portugal, and Brazil (see lineup here). I am not familiar with most of the musicians (Joey Hopkins Midget Factory???). Some, however, I recognize on the cutting edge – France's Smohalla and Sael (France, as far as I'm concerned, is metal's cutting edge at the moment), Zweizz (ex-Dodheimsgard), Aidan Baker of Nadja.
Breakdown of albums covered: Perdition City and Kveldssanger at the top, followed by Nattens Madrigal. Perdition City makes sense – as Ulver's most electronic album, it's ripe for "remixing." Ironically, so is Kveldssanger, but because it's all-acoustic. From there, it's a grab bag, with some interesting choices – two tracks from the Vargnatt demo, two out of the three tracks of the Silencing the Singing EP.
The reinterpretations here are fascinating. Panacea Enterpainment turns the winsome melodies of "Porn Piece or the Scars of Cold Kisses" into beautifully blown-out, distorted ambience a la The Angelic Process. Aidan Baker's take on "Eitttlane" is a likewise massive, moving ambient sculpture. Jääportit morphs "Gnosis" into an 11-minute monster of menacing atmospheres, rolling beats, and female vocals; it's much, much stronger than the original.
Perhaps most intriguing is where the artists inject metal where there wasn't any before. The acoustic "Utreise" gets reworked twice – both times as melodic doom. Joey Hopkins Midget Factory reshapes the Bernard Herrmann-meets-RZA hip-hop of "Catalept" into a lush Tim Burton fantasy, complete with brief metallic guitars.
Not all the covers are revelatory, and there are a few downright clunkers. But smoothing the ride is the logical sequencing – weird stuff first, then straight black metal, then electronic bits leading to ambience, and so on. This release works on a stand-alone basis, but also sheds light on its source material. As a covers project, it's an absolute success. I can't believe the label is giving it away for free.
See here for the full list of download links and mirrors. If you like Ulver in any way, there is no reason why you shouldn't grab this.
Written by Invisible Oranges, 7.1.08
---
My Own Wolf: A New Approach to Ulver – arvostelut suomeksi (In Finnish)
KOKOELMA
My Own Wolf: A New Approach to Ulver
2CD
[ Cold Dimensions / Aspherical Asphyxia ]
(5½)
Miten luoda tribuutti Ulverille – yhtyeelle, joka on aina ollut arvaamaton, repinyt itseään irti ennakko-odotuksista ja käynyt läpi niin kirskuvaa black metalia, humisevaa elektroa kuin akustisiakin hetkiä? Pitäisikö keskittyä vain yhteen aeoniin vai kaataa kaikki yhteen suureen ämpäriin? Entä yhtyeet, pitäisikö artistien yrittää lähestyä valitsemaansa kappalettaan aivan uudesta näkökulmasta vai muotoilla kokonaisuutta vain hieman uuteen kuosiin?
Cold Dimensions / Aspherical Asphyxia on ottanut haastavan toimen toteuttaakseen, ja niinpä yksi levyllinen ei ole My Own Wolfille riittänyt, vaan kuulija saa rahoillaan kaksi yli 75-minuuttista kolossia. Toinen harkittu valinta on ollut selvien nimibändien pudottaminen matkasta ja keskittyminen pääosin tuntemattomiin ja vasta uraansa aloitteleviin yhtyeisiin pääosan juurien ollessa joko Ranskassa tai Venäjällä.
Ongelma ei tässä tapauksessa ole kuitenkaan kokemattomuus vaan itse esikuva Ulver. Yhtyehän on täynnä absoluutteja, joita on vaikea lähteä edes koskettamaan: Garmin laulutyyli, Perdition Cityn urbaani elektro, Nattens Madrigalin kitarasoundi ja Kveldssangerin akustinen puhtaus nyt muutamia mainitakseni. Niinpä moni yhtye tyytyy kopiointiin: esimerkiksi ensimmäiselle levylle ahdettu Nattens Madrigal -biisikvartetti on pelkkää hiilikopiosurinaa – ainoastaan Otzetepenevshiye pyrkii luomaan jotain omaperäisempää industrial-henkisellä versiollaan.
Toisen levyn konepuolella on ehkä hieman enemmän mahdollisuuksia eräänlaisten remix-versioiden tekoon, mutta tämäkin puolisko saa enemmän tekemään mieli kuuntelemaan alkuperäisiä kappaleita. Joitakin mielenkiintoisia versioita kuitenkin löytyy: Pryapisme saa Blood Insidelta napatun In the Redin vääntäytymään dancen ja nintendocoren suuntaan, kun taas Nadjasta tuttu Aidan Baker kasvattaa Eitttlanesta hienon ambient-veistoksen. Myös kotomaamme toiselle edustajalle eli Jääporteille täytyy antaa tunnustus fiilistelevien konekomppien ja naislaulujen käytöstä Gnosis-kappaleessa. Toinen suomalainen orkesteri, Avathar tekee taas sen, minkä lähes jokainen Kveldssangerin biisien kanssa tekevä yhtye tekee: kääntää biisin metallisemmaksi. Versio on keinuva ja folkahtava mutta ei kovinkaan kummoinen. Paremmin tässä onnistuu funeral doom -käännöksen samasta kappaleesta muovannut Bosque.
Kuten sanottua, levy-yhtiö on ottanut tässä selvän riskin ja tällaisesta uskaliaisuudesta voi jo nostaa hattua, mutta konkreettinen onnistuminen jää puolitiehen itse digipackinkin sisältäessä varsin vähän informaatiota. Onneksi kuulijoilla on mahdollisuus ladata koko paketti itselleen levy-yhtiön kotisivuilta. Seuraavaksi Aspherical Asphyxia lähtee toteuttamaan triplatribuuttia Emperorille, Ved Buens Endelle ja Arcturusille. Tehtävä ei ole ollenkaan Ulveria helpompi, joten saa nähdä, pystytäänkö tasoa nostamaan.
-Antti Klemi, Imperiumi.net, 06.08.2008