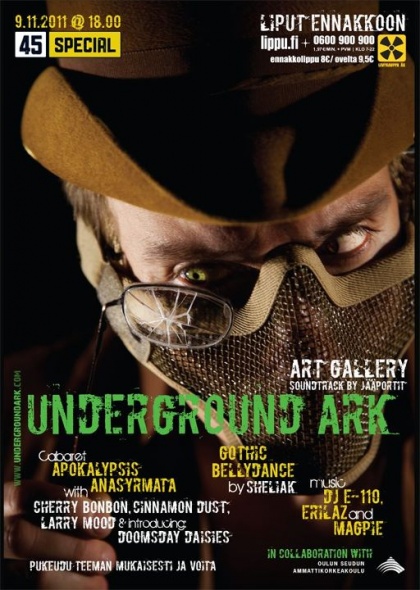 UNDERGROUND ARK 9.11.2011 45 SPECIALISSA!
Underground Ark -niminen tapahtuma kerää monimuotoista tuhon tunnelmointia Oulun 45 Specialiin. Luvassa maailmanlopun tuntoja herättelevä poikkitaiteellinen taidenäyttely, burleskihenkinen mielenräjäyttävä show sekä livemusiikkia. Luvassa on niin valokuvataidetta, tilataidetta kuin maalauksiakin; tekijöinä sekä nuoria oululaisia lupauksia, taidepiirien konkareita kuin muutama pohjoiseen eksynyt maailmankansalainen. Alakerran taidenäyttelytilan taustamusiikkina soi Jääportit-julkaisut koko illan ajan.
Tervetuloa kulttuurin viimeiseen pakopaikkaan, maailmanlopun klubille.
---
In English:
UNDERGROUND ARK at 45 Special Oulu, Finland on November 9th 2011
A multidisciplinary event called Underground Ark gathers a diverse moods of destruction and world coming to an end to the 45 Special in Oulu, Finland. Event contains artistic exhibition, mindblowing burlesque show as well as live music. Both art photography, state of the art of painting, elements of both the young promises of Oulu, art districts north of the veterans as a few stray citizen of the world. The ground floor exhibition space uses releases of Jääportit as background music all night long.
Welcome to the last refuge of art. Expect a mindblowingly unique collision of sub-cultures and experiences!
---
Lisätietoa / More information:
Undergroundark.com
Facebook-event
45 Special
---
Watch Underground Ark – promotional video