Jääportit – frostbitten music and atmospheric sounds from Finland since 1997.
Jääportit was originally formed by Tuomas M. Mäkelä in 1997. One man music project works somewhere in between genres like frosty ambient, darkwave, experimental electronica and post-rock using both synthetic and natural sounds. Tuomas deals with the guitars, keyboards, synthesizers, composing and producing the music.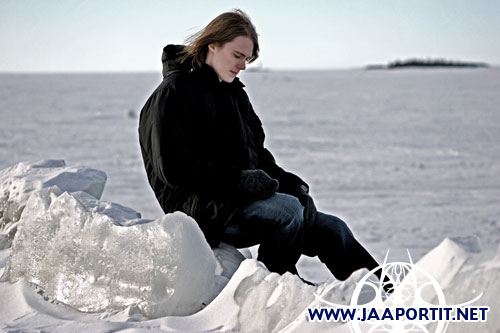 The name Jääportit is written in Finnish language and could be translated in English as The Gates of Ice or The Frostportals. All album and track titles are written in Finnish too.
---
Additional Members
Vesa Partti
Plays electric guitar on the song "Gnosis" released on My Own Wolf: A New Approach to Ulver (2007). Vesa is also member of Sadkarma and Tuliterä.
J-M Kenttälä
Plays acoustic guitar on the song "Sydänyön samooja syvällä unten mailla ja metsien soilla" released on Sonic Visions of Middle-Earth (2005). J-M Kenttälä (a.k.a. Masa Yardse) is also member of Finnish rock band Ruotomieli.
Mindy
Played the acoustic violin, did vocals in a few songs and created  album cover artwork paintings for Jääportit albums during the period 2003-2009.
---
Read more