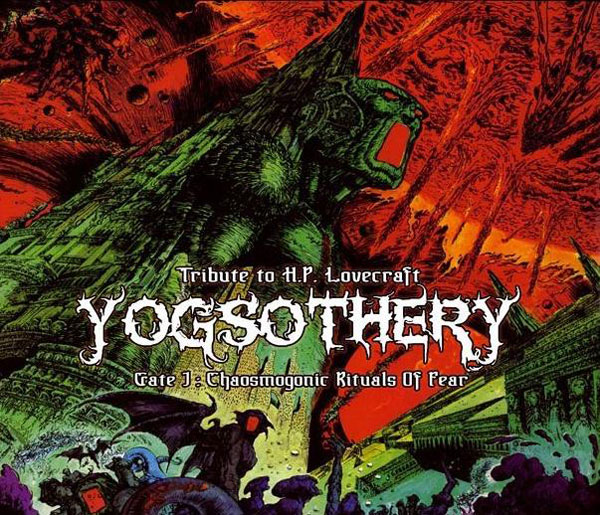 CD in a cardboard slipcase. 20-page full colour booklet with liner notes and lyrics.
Released by I, Voidhanger Records at 2010.
Out on November 15th 2010, "Chaosmogonic Rituals Of Fear" is the first volume in the YOGSOTHERY trilogy of metal tributes to the genius of H.P. Lovecraft and the Cthulhu Mythos! 120 years after the birth of the gentleman from Providence, 4 underground bands passed the Gates of Unknown to distill their Lovecraftian cosmic visions of horror and madness in 4 monumental tracks, exclusive to this release.

Secretly assembled during the years, "YOGSOTHERY – Gate I: Chaosmogonic Rituals Of Fear" features over 77 minutes of obscure avant-garde prog metal, abysmal dark soundscapes and frightening blackened space-doom courtesy of the Finnish avant-masters AARNI and UMBRA NIHIL, the cosmic-ambient psychonauts JÄÄPORTIT (FIN), and the mysterious space-doom project CAPUT LVIIIm (ITA), a one-time-only monster featuring members of the necro-doomsters Malasangre and the black-ambient visionaries Tronus Abyss.
Music and sounds for Jääportit track Kuihtuman Henkivi was composed, mixed and produced by Tuomas M. Mäkelä at Kajekammio during the unknown times of Ammon. Track was specially created for and released on this compilation album only.
---
Tracklist
| | | |
| --- | --- | --- |
| | Artist | Track Title |
| 01. | Jääportit | Kuihtuman Henkivi |
| 02. | Umbra Nihil | Suur-Nikkurin Virsi |
| 03. | Aarni | Lovecraft Knew |
| 04. | CAPUT LVIIIm | Resurgent Atavism |
---
More Information
Check out Record Label's website and MySpace page.
---
Buy the album
---
Listen and Download
---
Listen to sample of Kuihtuman Henkivi
---
The opening band is Jääportit, whose contribution is titled "Kuihtuman Henkivi." It is the former, a dark instrumental journey that captures the weird concept of cosmic horror by drowning the listener in an overwhelming drone, within which there are instrumental kernels that hint at the outsider, the cosmic, and deep-seeded terrors of things and concepts best left alone. At more than 25 minutes, "Kuihtuman Henkivi" is a masterpiece for fans of drone and blackened ambiance.
- Octavio Ramos / SANTA FE METAL MUSIC EXAMINER

Jääportit's "Kuihtuman Henkivi" opens up with a sound that for me, an electronic music obsessive, is really close to my heart and has the liquid textures of synth hum and loops that reminds me of Peter Namlook/Klaus Schulze/Bill Laswell's "Dark Side of the Moog" series. This thing is completely stellar and celestial drone with the right amount of warm hallucinogenic overtones so if you really dig Clusters drone stuff, Tangerine Dream, Cosmic Jokers and all of their related projects, then you MUST check this shit out!!! Kraut/psyche/ambient/epic space tunes galore!!!!
- Janet Willis / Hellridemusic.com

Jääportit delivers a 25 minute long ambient piece that swirls all over the place. In the beginning you're still accompanied by singing birds even though the music keeps pulling and pulling you in, like a black hole pulls on light. As the music gets harsher, the birds fly away, leaving you all alone and you're completely submerged in the music. When you are around nine minutes in, there's a nice a quiet passage, reminiscent of a calm stream flowing through a jungle. Danger, darkness and death are everywhere, merely lurking. Just enjoy the relative safety for as long as it lasts, because it will end. But not anytime soon. You'll go insane from paranoia and fear first.
- 100SL / DRROOM